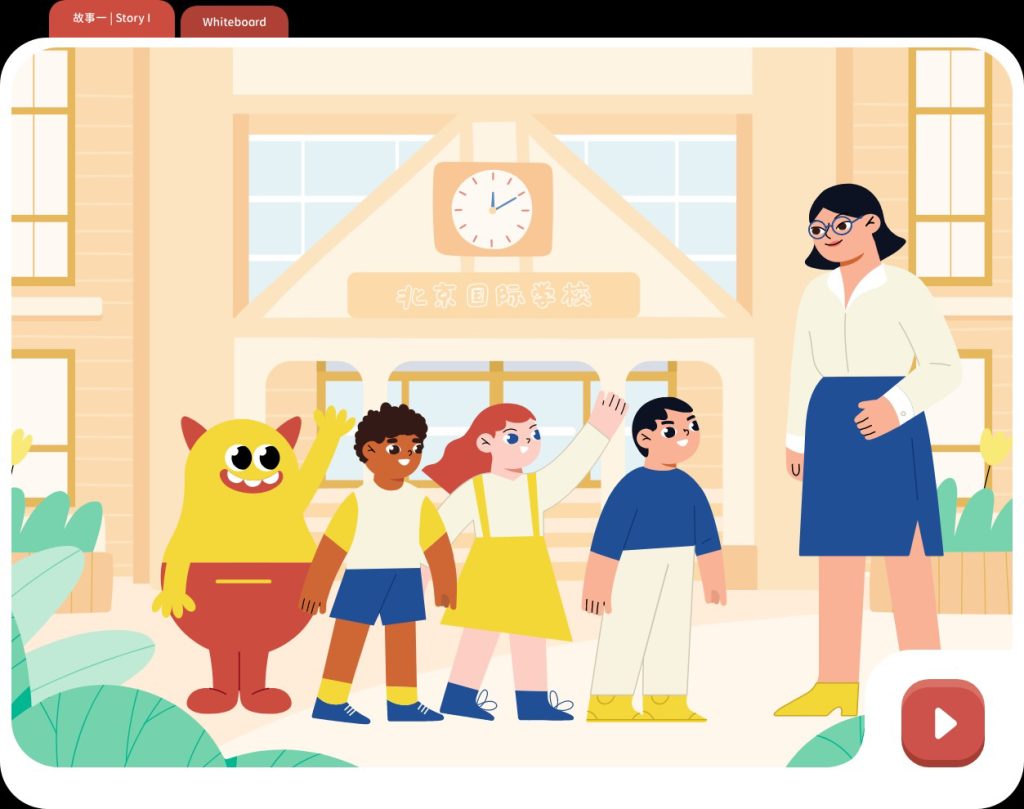 Chinese learning has become a popular topic among adults and kids across the world. Adults think having a good knowledge of Chinese would equip them with extra competitiveness on the job market. Meanwhile, many parents tend to choose Chinese as a foreign language for their kids to learn in that Chinese is spoken by almost 1/5 of the world population. In addition, they would also like their kids to gain a deeper understanding of Chinese culture, which is considered "exotic". When it comes to teaching kids Chinese, different approaches need to be adopted compared with teaching Chinese to adults, otherwise the whole learning process could become monotonous. The following five tips may help kids become more interested in learning Chinese.
Use pictures for Chinese learning
Kids are imaginative and have the tendency to focus more on cartoon pictures instead of words and sentences when it comes to language learning. Therefore, it's a bit hard for them to improve their Chinese language skills purely relying on traditional textbooks. It would be a good idea to help kids improve their knowledge of Chinese grammar and vocabulary through short stories based on cartoon pictures. In addition, exercises like asking kids to choose the correct words that best describe the pictures they've seen would also help solidify their knowledge of Chinese.
Watch cartoons
Most kids are partial to cartoons, and some of them can spend a couple of hours watching cartoon movies without leaving their seat. Therefore, it's feasible to provide them with the opportunity to have an enjoyable learning experience with the help of cartoons. Dialogues between two cartoon characters based on different scenarios allow kids to apply essential phrases they've learned in class to real-life situations. Furthermore, watching cartoons can certainly stimulate kids' interest in studying Chinese as most of them have to do with topics that are considered popular among children.
Play games
Kids are always passionate about playing games, and it's sensible to design some games which are related to their learning materials. One important thing one needs to bear in mind when designing learning games for kids is to keep the game rules simple. For instance, a possible way to help kids become more engaged in Chinese learning through games is by asking them to guess simple riddles based their teacher's description in Chinese.
Use language learning apps/platforms
There are quite a few language learning apps and platforms available for kids to learn Chinese. One of the main advantages of using language learning apps or platforms to study Chinese is that they are usually designed by experienced specialists in Chinese language teaching. Most of them contain a large number of learning resources aiming to provide kids with the opportunity to learn Chinese in a conducive and relaxed atmosphere. Take Nihaokids (https://www.nihaokids.com/) as an example, it is an online learning platform designed by That's Mandarin (https://www.thatsmandarin.com), a top Chinese language school in China. Nihaokids offers high-quality Chinese classes to kids and teenagers aged 6 to 12. It contains interesting but also enlightening learning materials designed to help children effectively improve their Chinese language skills covering listening, speaking, reading and writing.
Take group classes
Sometimes kids might feel bored if they have to study Chinese with a private tutor. Studying Chinese by taking group classes will provide them with plenty of chances to interact with other kids, which could make Chinese learning more interesting. Moreover, they will have the opportunities to complete language-related tasks with other Chinese learners during the class, which could help them strengthen the friendship with their classmates and develop a sense of collectivism.
China is now playing an increasingly important role in the international arena, which makes Chinese a popular foreign language in many countries. Hopefully, the tips offered above would be able to make Chinese learning more pleasant and enjoyable for kids.