Teacher Resources - Alphabet
Galaxy Kids has prepared a variety of FREE learning resources for use at home and in the classroom.
Please feel free to download and use for educational purposes.
Need to learn your ABC's? Here are resources to help! We have provided a set of flashcards for the entire alphabet that can be printed out and used in the classroom. There is also a song and book for each letter of the alphabet as well as activity sheets and a handwriting practice sheet for each letter.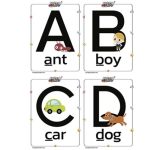 Alphabet flashcards
[sdm_download id="4329" fancy="0" ]